Transport Service

A 12 seats van is available for extra charge. Airport shuttle- Ski Tube shuttle – Private shuttle available with vary rates. Please contact hotel direct for more information.
Phone No. 02 64562918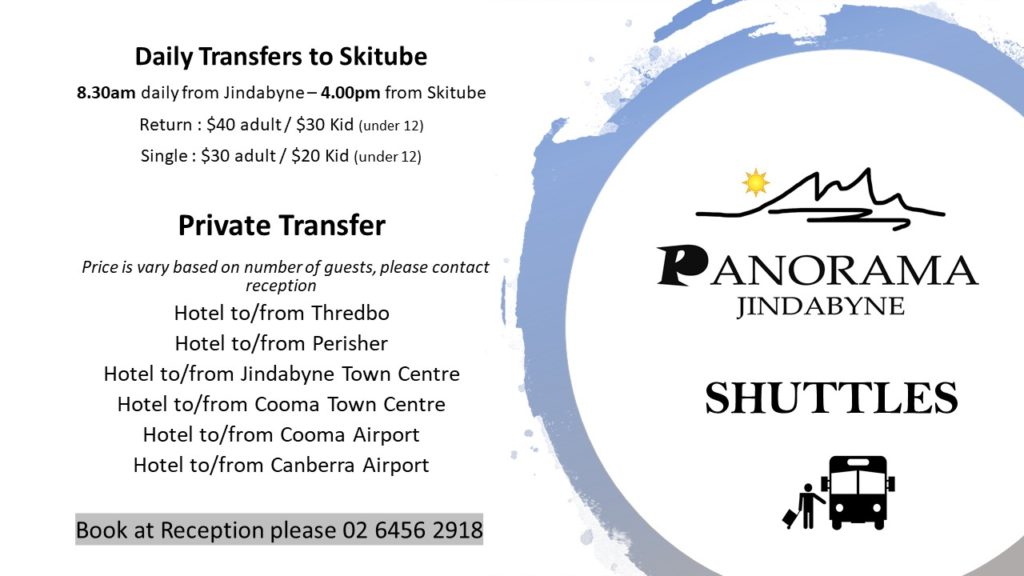 Ski / Snowboard Hiring
20% Discount off ski or snowboard hire rates. Simply present discount card at our partner's shop (More information & Card available at reception) or just mention that you are the Panorama Hotel Guest, for automatic benefits or just manage your gear here , so easy
;
Facilities Overview
Bicycle Hire

We have a great mix of mountain bikes for our guests to ride around the snowy mountains. The bikes are of different sizes and include children's bikes. The bikes come with a lock, helmet and quick safety explanation, no responsibility accepted for any accidents or injures from biking. Just visit the concierge to arrange hire. $30 per bike – Half day (Morning or Afternoon)
Kayak Hire

We have two-seater & one-seater Kayaks available to guests who stay at Panorama Jindabyne. Please note that you will need to transport the kayak to the lake by yourself (estimate 300 meters), as drop-off and pick-up is not included. If you need to arrange transport, there is a transport charge of $30.00 for drop-off and pick up, which can be at different locations. Cost of hire $30 per kayak – Half day (Morning or Afternoon)
Executive Lounge

Our scenic lounge is located upper floor next to the dining room. Open time is from 7.00 am – 9.00 pm sharp. The Panorama View of lake Jindabyne from our lounge is known as a secret treasure of the Snowy Mountains, we have refurbished to provide our guests warmth and comfort with a touch of understated relaxation around a log fire.
Strictly No BYO in the Bar, Lounge and Bistro Areas
Log Fire Lounge

The Log Fireplace is lit in winter. It has no fence around to provide you a nice view and atmosphere. Thus, it is easy to get too close to the fire lodge, please keep distance for your safety. Please watch your children around the fire place.
The fire wood is stored adjacent for, please do not put logs into the fireplace. Only hotel staff to manage the fire top up, please contact our lovely staff for assistance.
Pool table


Pool table is available($2 coins)from morning until 9.00pm for guest over 15 years old. Under 15 years old must be supervised, $600 bond may apply to cover the replacement of cloth.
Game Room



We provide Free of Charge entertainment in our games room including X-box, Card Games, Chess Boards, In House DVD, Library, Puzzles and much more. Please keep clean and place any game items back on the shelf. Small children must be under supervised. Foot Ball table is always popular , so much fun here (free of charge)
Drying Room

In winter, a drying room is provided free of charge for our house guest to dry damp cloths or booths. The heaters and the exhaust fan will be on overnight for helping the cloths or booths to be dried. In case of wet cloths, please feel free to using the cloth dryer in the laundry (coins apply). Please see our staff for any further assistance. Please be aware that it is not our responsibility for undried cloths or footwear.
Storage room

In summer, a bicycle room is provided free of charge for our house guest. Cloth and cleaning materials are available for you convenience. Air pump and some tools may be needed also available. Please do not bring bikes in the bedroom.
Ski-snowboard Gears, bicycles, Luggages storage room available, may be deposited at the reception before check-in time or after departure. This service is only available for registered hotel guests.
Guests Laundry

Guest Laundry is available between 4:00 PM and 7:00 PM daily, consisting of coin operated Washing machines and dryers. You will need 4 x $1.00 coins for each wash or dryer. Iron & Board Please contact reception and we will deliver these to your room.
Licensed Restaurant & Bar

SUMMER
We offer a selection of international dishes, ranging from Thai Fusion Dishes, Thai Curry to pastas, kid meals and unique home style creations. Together with our Local Beer on Tap and much more drink options.
Group Booking : A private party and special events (minimum 20 people) available by arrangement in Summer.

WINTER
Every Day Buffet Breakfast & Buffet Dinner included in your winter room rate . Bar is available on site for extra charge. Enjoy our Local Beer on Tap and much more drink options.
Internet Wi Fi
Wi-Fi is available Free of Charge in public areas, no password required. Please select Wi-Fi network: "Panorama Guest" in Public Area
Drinking Water
The Panorama is committed to green hotel policies and the implementation of measures to help protect and sustain the environment for future generations. We aim to be an increasingly efficient environmental hotel. By working together, we can achieve these environmental goals. We encourage you to have your own bottle (in room water bottle is not provided). Our tap water is safe to drink. However, we do offer a filtered water for Free of Charge at the ground floor foyer near reception. Please feel free to refill your own bottle any time you like. Mineral water bottles can be purchased at the café as well.
Cooking and food preparation
Our rooms have no facility for food preparation, as it leaves unpleasant odours. It is not permitted to bring portable hot plates or other means of cooking into your room. Safety risks aside, cooking will trigger the hotel's smoke alarm system. The fire brigade call out cost will be passed on to the guest involved.
Rooms are not suitable for meal preparation and consumption as BF&DN offering at restaurant
Off street car parking
Lift for disability access,Wheelchair Access and Disability Rooms
Local information desk ,Free maps and more.
To avoid misreading information from online booking channels, please book direct ,just ring up 02 6456 2918 Anton, Bibi & staffs will assist you about the booking also while you stay with us at Panorama Jindabyne.

Group Packages – Family Friendly – Wedding & Function